Cleaning Chemicals & Detergents
Next-Level Floor Cleaning Solutions | Three-Tier System
---
We've partnered with our parent company, Bortek Industries, Inc., in order to bring you three of the best cleaning chemicals for your floors. To keep things simple, we've curated a three-tier cleaner selection, from mild to super heavy duty. Cut through water-insoluble soils like grease, oil, or other lubricants with one of our top-tier cleaners & degreasers. We've compiled a perfect selection of neutral to super heavy duty floor cleaning chemicals for you. Bortek creates several of these solutions in-house in order to provide a range of options suited for different uses. Here are the best of their low-foaming degreasers which are safe for automatic floor scrubbers and tough enough for industrial cleaning.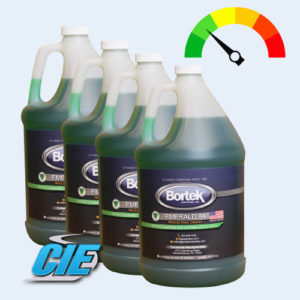 Emerald 84
|
Neutral Floor Cleaner
A totally synthetic floor cleaner designed for daily use in any floor maintenance program. Its slightly acidic pH will not damage the gloss or film of any finish and is effective at neutralizing harsh cleaner residue on the floor. Contains optical brighteners to enhance the beauty of the floor when it dries. Controlled foam makes this product ideal for use in automatic scrubbers. Will dissolve all ice melt and hard water films, and will never leave the floor with a soap haze.
---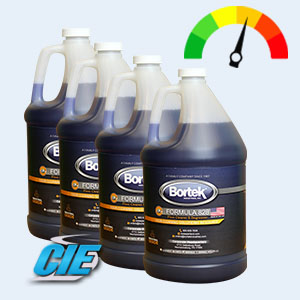 Formula 828
|
Cleaner Degreaser
Formula 828 is an extremely effective floor degreaser and cleaner. It's a unique blend of saponifying agents (agents that essentially turn fats/oils into soap) designed to instantly emulsify grease and oily soil. It attacks grease and soils upon contact which makes this solution the ideal product for use with automatic floor scrubbers, pressure washers, the traditional mop and bucket, or even spray applications. This product will not fog when agitated, either!
---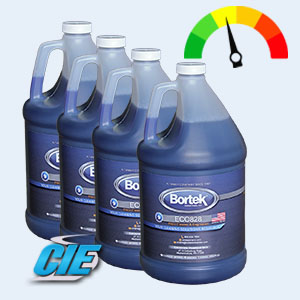 ECO 828
|
Cleaner Degreaser
ECO 828, is a heavy duty, DfE listed, concentrated cleaner & degreaser. It's able to remove even the toughest soils and is safe for use on surfaces unharmed by water. It's easily rinsed and features a mild deodorizing scent.
---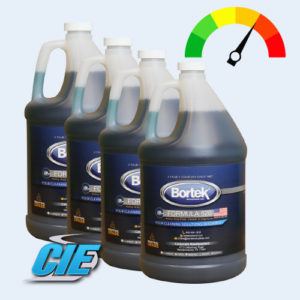 Formula 528
|
Heavy Duty Cleaner Degreaser
Formula 528 is truly the most versatile cleaner in anyone's line. A water-based cleaner and degreaser, formulated to remove grease, oil, carbon or any other industrial soil from concrete, machinery, engines, floors, walls, etc. Low foaming for use in automatic scrubbers. Extremely concentrated for dilutions of up to 1 ounce per gallon of water. Non-toxic, non-corrosive, non-flammable and biodegradable, so as to be safe to use on all surfaces not harmed by water.
---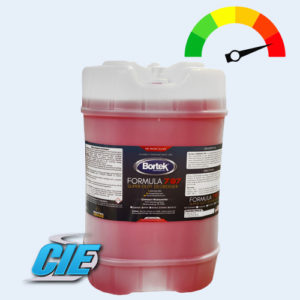 Formula 787
|
Super-Duty Degreaser
Bortek's Formula 787 is a concentrated and unique formula that incorporates a new generation surfactant system that effectively cleans and degreases even at extremely high dilution ratios formulated for versatility where multiple job performance is needed and a single product is required it contains a blend of high tech chelating agents to make it effective when used in hard or soft, hot or cold water.
---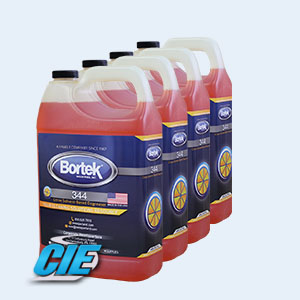 Citrus 344
|
Citrus Solvent Degreaser
344 Citrus Degreaser is an economical yet highly active natural citrus solvent based cleaner-degreaser. It can safely be used as directed on carpets, sinks, toilets, fiberglass, machinery, tools, grills, ceramic tiles, concrete, graffiti, dumpsters, grease traps, all metals, and much more. It's truly among the most versatile cleaners in anyone's line.