Automotive Dealership Power Cleaning Equipment
Scrubbers & Sweepers to Efficiently Clean and Maintain Your Floors
---
As a salesman, you know that talking the talk isn't the only thing that will influence a customer's buying decisions. Everything from the smoothness of the lot, ease of finding the lobby, and the quality of danishes in the waiting area can impact the mind of a prospect. One of the most important things, however, is the cleanliness of your dealership lobby, waiting areas, facilities, and service center. Keeping the appearance in tip-top shape can help to influence your customers' opinions on how tightly and professionally your business is run, and that can help push sales that might not have been converted otherwise. The easiest and possibly most noticable way to wow your audience is through clean and tidy floors.
There are a few machines here that are a perfect match for cleaning a dealership. Larger areas can benefit greatly from use of a Factory Cat XR. This machine is an incredible work horse with large hopper and recovery tanks that ensure you can run it for a long time and cover your whole facility. For medium or smaller dealership, the Factory Cat Micro-Mag and Mini-HD are excellent scrubbers at navigating areas that require a bit more finesse due to obstructions. If you are considering a scrubber, it's important to also consider a sweeper like a PowerBoss Collector 34 or Factory Cat's Model 34. Both models are sturdy sweepers that will get the job done right.
It's important to remember to sweep floors before scrubbing them. We always recommend sweeping first, then using a floor scrubber to get that floor as clean as possible, ready to support your team in delivering on its mission. Leaving chips or sharp debris on the floor poses serious risk to both your people and the equipment that you use to make the operation run smoothly. Whether that means that you need a sweeper and a scrubber to do the job, or a single sweeper/scrubber machine that does both at the same time, we've got what you covered. No matter the specifics of your dealership, we're here to help develop a plan and happy to help you find the perfect solution for the job at hand. We'll walk you through the process and make sure you get the right equipment for your specific situation. Let's start the conversation!
---
Dealership Floor Cleaning Equipment | Effectively Clean & Maintain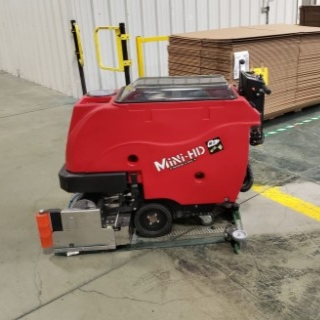 Walk-Behind Battery Scrubber
Large enough to be highly productive, yet small enough to maneuver easily through doorways and confined areas, the Factory Cat Mini-HD battery powered floor scrubber is a remarkably versatile machine.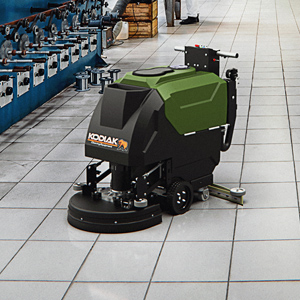 Walk-Behind Battery Scrubber
Cleaning small areas with a budget in mind has just gotten easier with the Kodiak K12 Series of Floor Scrubbers. This floor scrubber provides premium performance and durability compared to others in the market.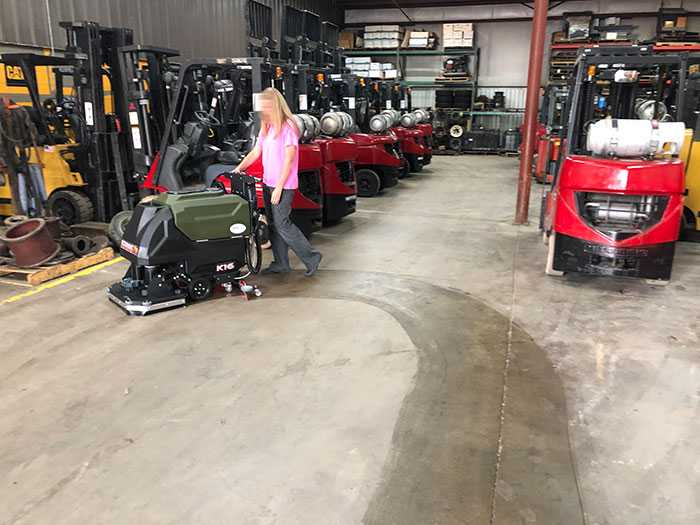 Walk-Behind Battery Scrubber
Reduce the cost to clean with the industrial-grade Kodiak K16 Floor Scrubber. We've made consistent cleaning and being budget conscious our top priorities while delivering a durable floor scrubber that will last for years.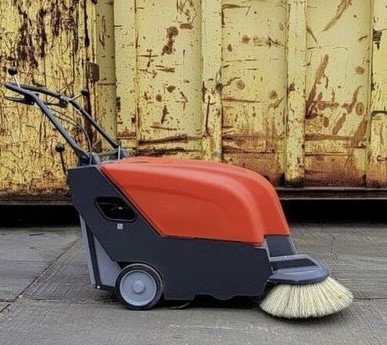 Walk-Behind Sweeper
The PowerBoss Collector 34 is a reliable, industrial sweeper, famous for its ability to sweep in the harshest applications. This low-maintenance floor sweeper is incredible and can sweep through thick dust with ease.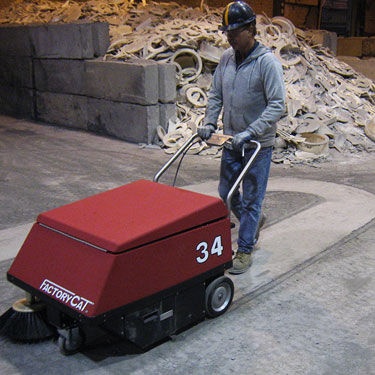 Walk-Behind Sweeper
The Factory Cat Model 34 is an industrial sweeper famous for its ability to survive decades in the harshest applications. Designed almost 25 years ago, this floor sweeper can sweep through thick dust with ease.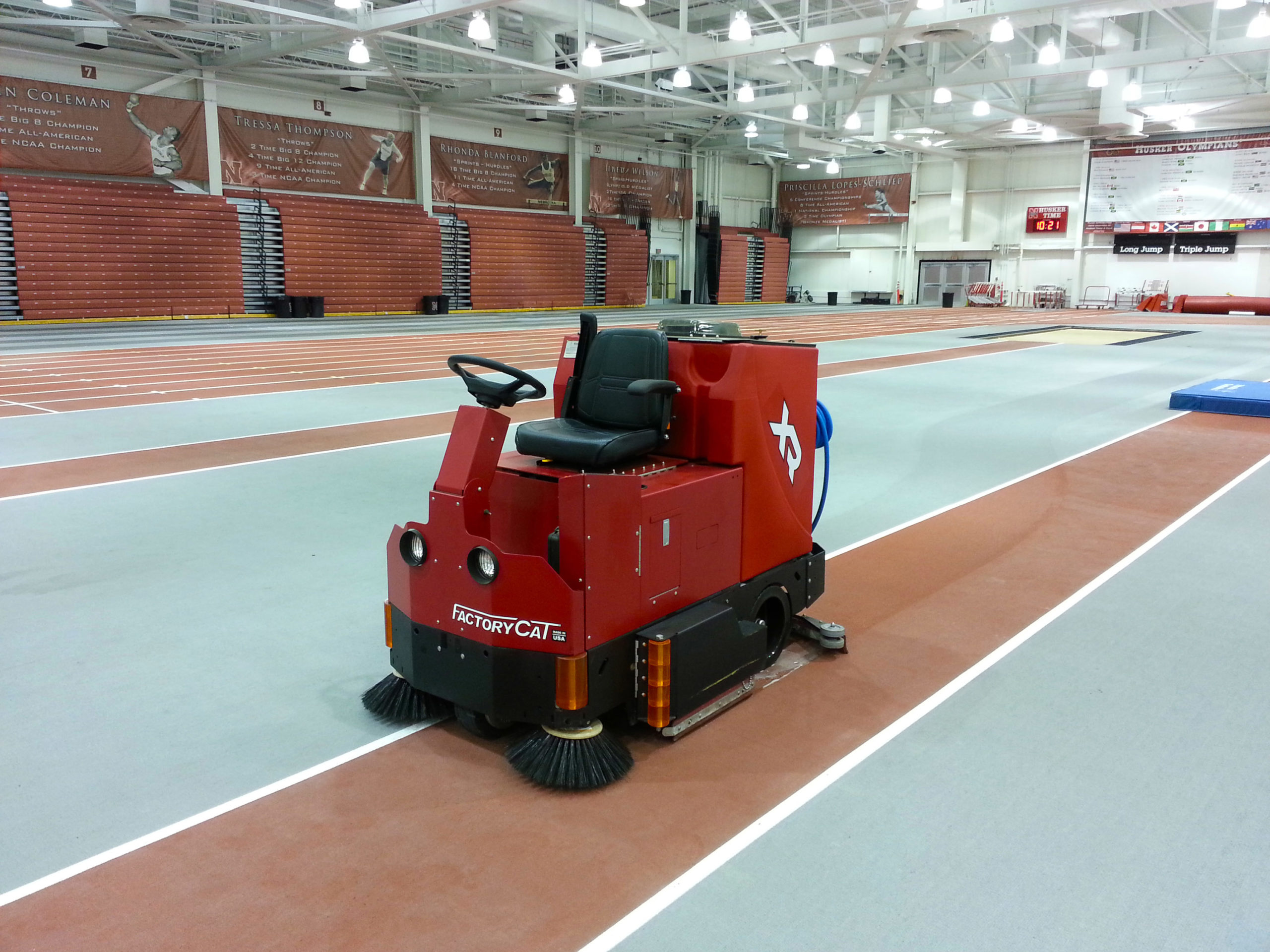 Ride-On Battery Scrubber / Sweeper
If you are looking for a battery powered ride-on floor scrubber for cleaning large spaces quickly, the XR is built for the task. With large solution and recovery tanks and a wide scrub path, this ride-on auto scrubber can clean large facilities, fast.
---

Proudly serving the Carolinas for over 60 years, Carolina Industrial Equipment stands ready to deliver your tailor-made solutions. Based out of Charlotte, NC, we're poised to reach and support some of the most densely populated areas such as our very own North Carolina cities Charlotte, Raleigh, Winston-Salem, Greensboro, Wilmington, Morehead City, and more! The surrounding states, we've got your back too! Our customers come first and we'll do everything within our power to help you accomplish your mission. Let's start the conversation!