Military & Defense Power Cleaning Equipment
Specialty Vehicles, Scrubbers & Sweepers to Efficiently Clean and Maintain Your AO
---
North and South Carolina are home to some of the most elite forces in the United States Military. One of the major posts, Fort Bragg (home to the 82nd Airborne Division & Special Forces) shares a border with Pope Air Force Base. Then you've got Camp Lejune for the Marines, many Navy ROTC posts, and so much more in the area. CIE carries the military near and dear to our hearts. We're here to support you and make your lives a little easier with rugged, reliable, and simple equipment to maintain your respective base of operations.
Some of the folks in the CIE Company Family are veterans from all different branches of the military so they've given us great perspective on the day-to-day life and ways to make the military troops' lives easier with our equipment. Something as simple as dumping the dust pan and broom and getting a small, walk-behind sweeper saves your troops' time, improves morale, and ensures those higher ups are always satisified with the level of area beautification you've pulled off.
The industrial-grade Factory Cat 34 sweeper is perfect for military folks. This machine is an extremely capable sweeper, made in the good ol' US of A, and is designed to take a beating (which is excellent– if you've been in the service, you know how equipment back in garrison can *cough* be destroyed). If you're familiar with Green Ramp on Pope AFB, you know how those pebbles from the jumpers' prep area get all over the place. Not a problem with the likes of Factory Cat. Having a few of these around and a couple of "joes" can make a few laps and boom, your company AO is spotless. Perhaps you're resposible for the CIF facility, maintaining its cleanliness has never been easier. These things don't require a license or anything to operate, it's too simple to. Cigarette butts, dirt, sand, and other debris will be just gone — no miserable police call or manual sweeping required. Free up your valuable time for more other logistics and, more importantly, training & development of your team.
For large, indoor areas with concrete, ceramic, or vinyl composition tiles, Factory Cat & Timberline floor scrubbers are excellent choices for cleaning floors easily and quickly. Are you forced to be a big fan of the Pine Oil Disinfectant Cleaner? What if I told you you can drop those costs and replace it with the use of Aqueous Ozone? Whether you're maintaining the cleanliness of a company AO, airline hangar, training ground, or central issuing facility, CIE has you covered and stand by, ready to help. Let's start the conversation!
---
Military & Defense Specialty Vehicles & Floor Cleaning Equipment | Effectively Clean & Maintain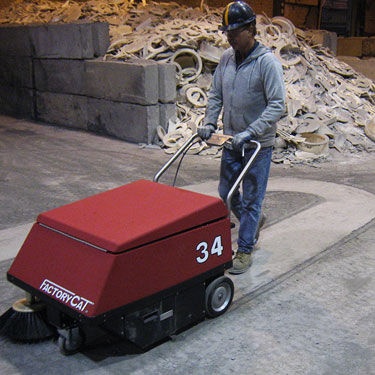 Walk-Behind Battery Sweeper
The Factory Cat Model 34 is an industrial sweeper famous for its ability to survive decades in the harshest applications. Designed almost 25 years ago, this floor sweeper can sweep through thick dust with ease.
Walk-Behind Battery Scrubber
Reduce the cost to clean with the K16 Floor Scrubber. We've made consistent cleaning and being budget conscious our top priorities while delivering a durable floor scrubber that will last for years, even through the toughest use cases.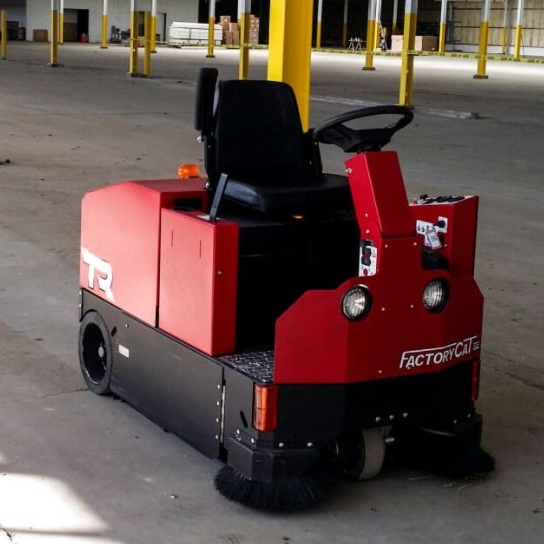 Ride-On Battery Sweeper
Modeled after the Factory Cat 34 sweeper, the TR's side brooms sweep up dirt in corners and a huge tubular sweeping broom under the machine sweeps up the dirt and debris from the floor and packs it into a steel hopper.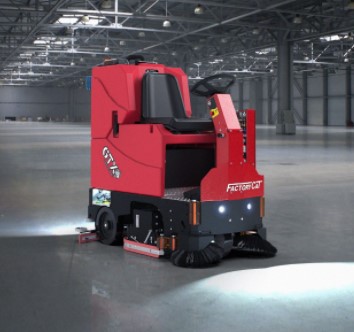 Ride-On Battery Scrubber/Sweeper
The Factory Cat GTX is a compact ride-on floor scrubber that sits atop a welded steel frame to ensure the durability of the machine. It is equipped with simple controls that virtually anyone can operate with minimal training.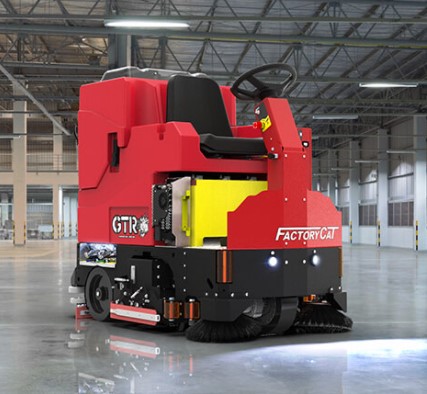 Ride-On Battery Scrubber/Sweeper
With a compact footprint and larger capacity tanks, the industrial-grade Factory Cat GTR rider floor scrubber differentiates itself by navigating better and fitting in environments that other large capacity machines simply can not.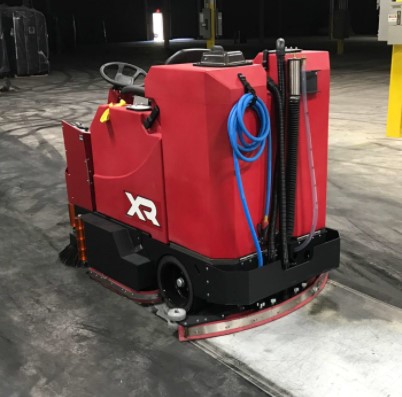 Ride-On Battery Scrubber/Sweeper
If you are looking for a battery powered ride-on floor scrubber for cleaning large spaces quickly, the XR is built for the task. With large solution and recovery tanks and a wide scrub path, this ride-on auto scrubber can clean large facilities, fast.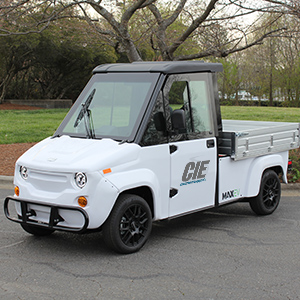 Electric Utility Truck
The new on road 4 wheel vehicle. Built to last, GO-4 Max provides up to 2000 charge cycles thanks to its standard Lithium Ion pack which offers minimal battery degradation, low maintenance, and an onboard battery management system.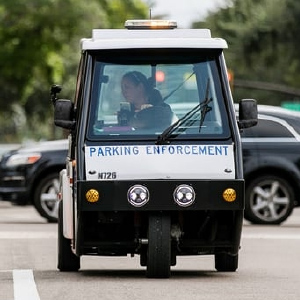 Licensable Electric Vehicle
The GO-4 EV a purpose-built, licensable, on-road vehicle designed to maximize efficiency in urban security and parking patrol. It's a pleasure to operate and easy to enter and exit hundreds of times per day, as needed.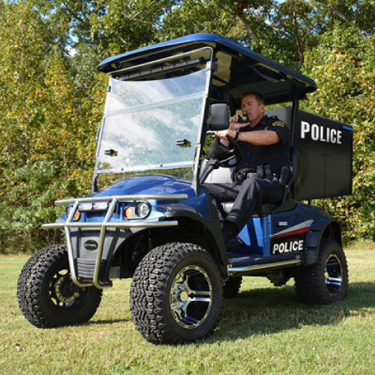 Security Force Vehicle
Star EV has what you need to show the military community that you care about the environment & will always get the job done. The Sport is an off-road enforcement vehicle ideal for patrolling rugged trails, beaches, & in between tightly packed living quarters.
---

Proudly serving the Carolinas for over 60 years, Carolina Industrial Equipment stands ready to deliver your tailor-made solutions. Based out of Charlotte, NC, we're poised to reach and support some of the most densely populated areas such as our very own North Carolina cities Charlotte, Raleigh, Winston-Salem, Greensboro, Wilmington, Morehead City, and more! The surrounding states, we've got your back too! Our customers come first and we'll do everything within our power to help you accomplish your mission. Let's start the conversation!