Manufacturing Facility Cleaning Equipment
Scrubbers & Sweepers to Efficiently Clean and Maintain Your Floors
---
What do automotive & heavy machinery, food processing, funiture production, and plastic & chemical manufacturing plants all have in common? They all require a high level of cleanliness due to both regulatory and efficiency reasons. Keeping machines clean allows them to be run longer with less downtime due to slips or breakdowns. Cleaning production surfaces keeps products from being contaminated. Another surface that can sometimes be deemed as "not that important" are the floors, and they are very important to keep in top shape. Floors can collect debris remarkably easy, and any leaks and spills can pool on the floor, creating a spot of standing liquid. Not only can these spills contaminate products, but it can also cause a slick spot that would be unsafe for employees. And if it still isn't taken care of after that point, it could stain the floor or become sticky and get even harder to clean. Daily sweeping and scrubbing of facility floors helps keep manufacturing plants cleaner and safer to work in.
It's important to remember to sweep floors before scrubbing them. We always recommend sweeping first, then using a floor scrubber to get that floor as clean as possible, ready to support your team in delivering on its mission. Leaving pallet chips or large, sharp debris on the floor poses serious risk to both your people and the equipment that you use to make the operation run smoothly. If that debris remains on the floor and you try to scrub over it, you will likely ruin your squeegee, and therefore the efficiency of your scrubber. Whether that means that you need a sweeper and a scrubber to do the job, or a single sweeper/scrubber machine that does both at the same time, we've got what you covered. No matter the specifics of your warehouse or distribution center, we're here to help develop a plan and happy to help you find the perfect solution for the job at hand. We will walk you through the process and make sure you get the right equipment for your specific situation. Let's start the conversation!
---
Manufacturing Facility Floor Cleaning Equipment | Effectively Clean & Maintain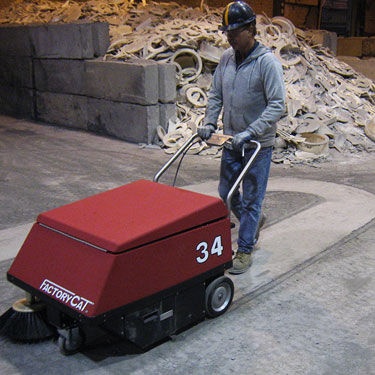 Walk-Behind Battery Sweeper
The Factory Cat Model 34 is an industrial sweeper famous for its ability to survive decades in the harshest applications. Designed almost 25 years ago, this floor sweeper can sweep through thick dust with ease.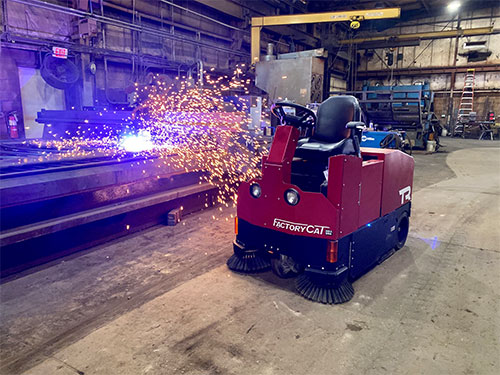 Ride-On Battery Sweeper
Modeled after the Factory Cat 34 sweeper, the TR's side brooms sweep up dirt in corners and a huge tubular sweeping broom under the machine sweeps up the dirt and debris from the floor and packs it into a steel hopper.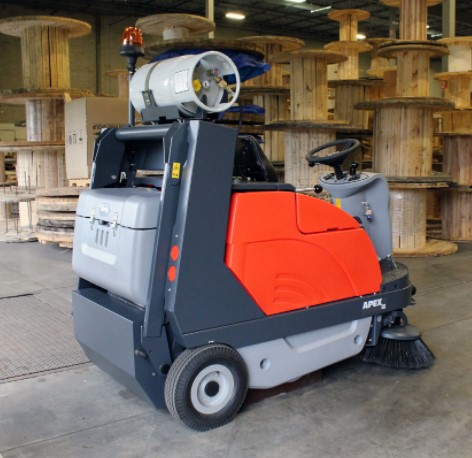 Ride-On Battery/LPG Sweeper
Available with LPG or battery power, all types of indor sweeping jobs are possible with the PowerBoss Apex 58. These machines are capable of incredibly long run times- up to 3 hours on the battery version and 10 hours for the LPG version.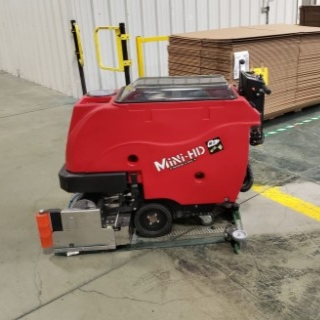 Walk-Behind Battery Scrubber
Large enough to be highly productive, yet small enough to maneuver easily through doorways and confined areas, the Factory Cat Mini-HD battery powered floor scrubber is a remarkably versatile machine.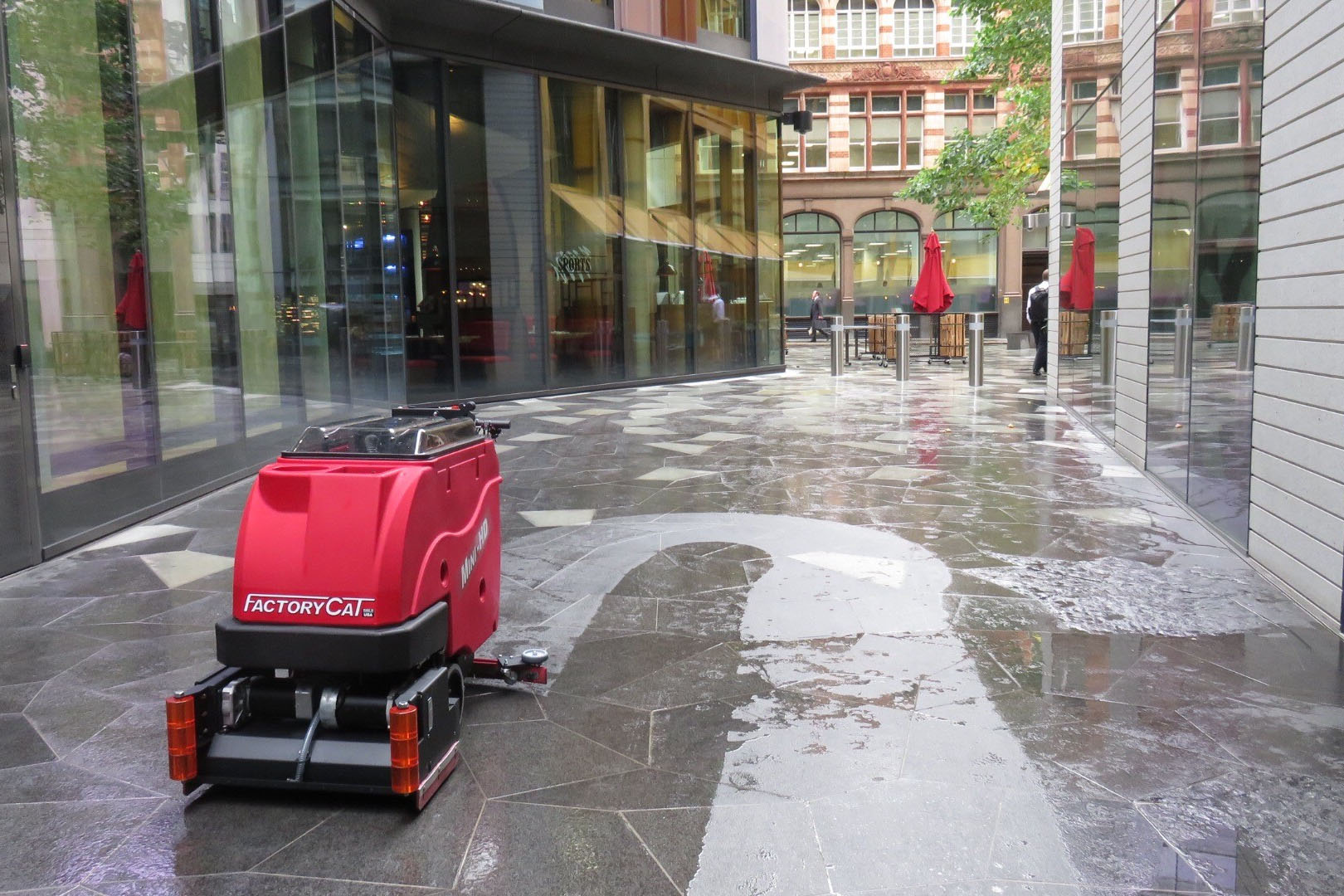 Walk-Behind Battery Scrubber
The Factory Cat Mag-HD industrial battery floor scrubber is a tough, industrial quality, full size walk behind unit. Industrial applications require performance, durability and reliability, and the Mag-HD delivers on all counts.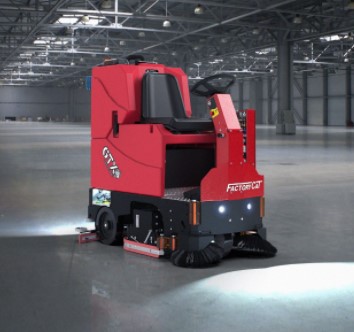 Ride-On Battery Scrubber/Sweeper
The Factory Cat GTX is a compact ride-on floor scrubber that sits atop a welded steel frame to ensure the durability of the machine. It is equipped with simple controls that virtually anyone can operate with minimal training.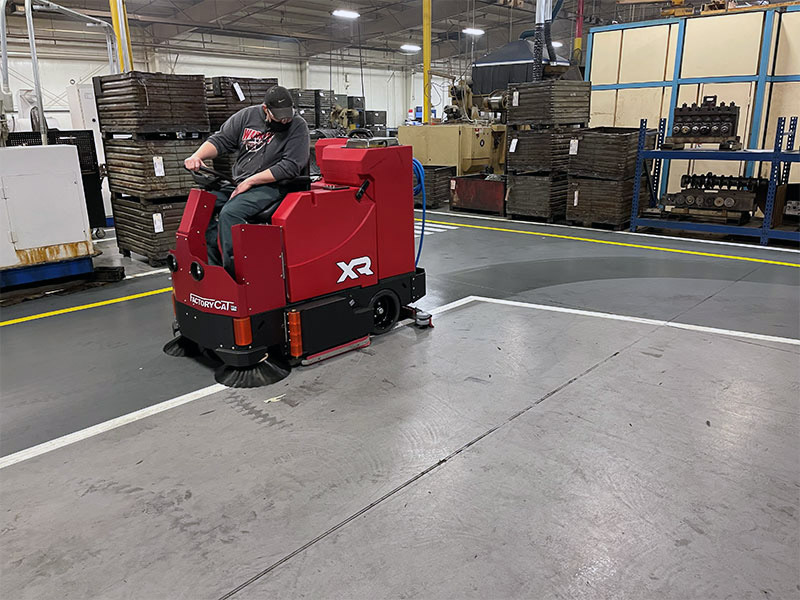 Ride-On Battery Scrubber/Sweeper
If you are looking for a battery powered ride-on floor scrubber for cleaning large spaces quickly, the XR is built for the task. With large solution and recovery tanks and a wide scrub path, this ride-on auto scrubber can clean large facilities, fast.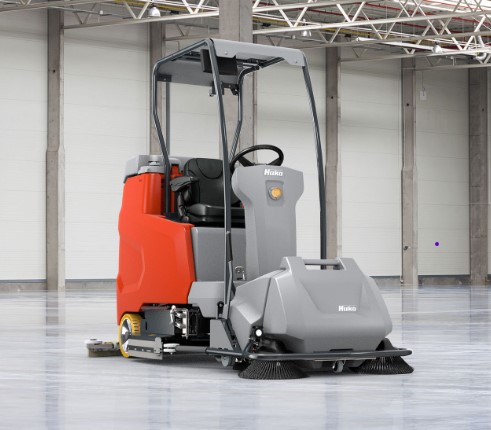 Ride-On Battery Sweeper/Scrubber
For the cleaning of large facilities like airports, warehouses, industrial facilities, shopping centers, and fulfillment/distribution centers, the PowerBoss Scrubmaster B175 R is the machine for the job. It is designed for ease-of-use!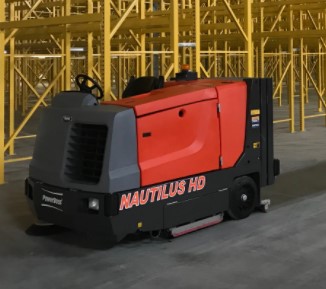 Ride-On Propane Scrubber/Sweeper
The PowerBoss Nautilus Hi-Dump can be an exceptional value to your company. Both the large water capacities and heavy duty stainless steel parts offer lower cost of ownership and ensure professional cleaning results that will make the difference.
---

Proudly serving the Carolinas for over 60 years, Carolina Industrial Equipment stands ready to deliver your tailor-made solutions. Based out of Charlotte, NC, we're poised to reach and support some of the most densely populated areas such as our very own North Carolina cities Charlotte, Raleigh, Winston-Salem, Greensboro, Wilmington, Morehead City, and more! The surrounding states, we've got your back too! Our customers come first and we'll do everything within our power to help you accomplish your mission. Let's start the conversation!