Hako Citymaster 650
Hako Citymaster 650
The Citymaster 650 is capable of performing multiple outdoor jobs with a single machine, thanks to its four attachment interfaces. With attachments for street sweeping, snow plowing, lawn mowing, and more this machine will get the job done every season of the year. Keep costs low by doing the work of multiple machines with just a single unit.
Use it anywhere! The Citymaster 650 can be used on all paved surfaces, at maximum payload, without restrictions. Its tight 4'6″ inner turning radius and 25 km/h (15.5 mph) speed make maneuverability a non-issue. Keeping track of your surroundings is easy, with a wide field of view for the driver and dual rear-view cameras. Plus, you won't be getting any complaints from passersby – the Citymaster boasts excellent dust control, lowest possible particle and fine dust emissions, and low noise.
The 600 L (21.18 cu in) hopper is made of seawater-resistant aluminum alloy and holds up through all of the Citymaster's many uses, collecting sweeping debris, grass trimmings, and leaves. The hopper's hydraulic tipper automatically opens the lid, making dumping a breeze.
More Municipal & Sidewalk Tractors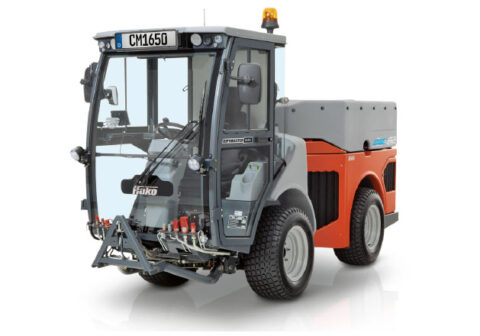 View Details
Swap front modules to change usage
Sweep, plow snow, cut grass, and more
Low dust, emissions, and noise
Bigger, with more attachments compared to the 650
View Product

Hako Citymaster 1650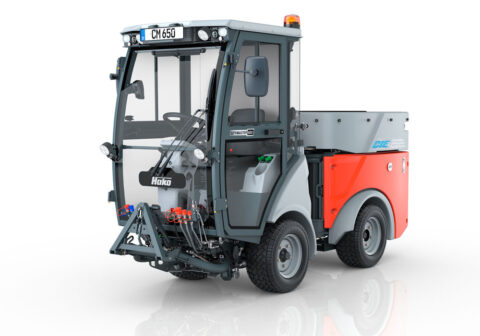 View Details
Swap front modules to change usage
Sweep, plow snow, cut grass, and more
Low dust, emissions, and noise
Up to 15.5 mph working speed
View Product

Hako Citymaster 650