Schwarze A8 Twister Street Sweeper
Schwarze A8 Twister Street Sweeper
The Schwarze A8 Twister is remarkable for its ability to empty its hopper anywhere from 2′ to 12′ high. Easy side emptying into dump trucks makes the Twister perfect for roadway construction work. Or dump a bit lower into roll off containers without spillage. Perfect for cities that stage containers at strategic locations rather than require the sweeper to make multiple trips to a landfill. It exceeds the capacities of all others in its class with a 134 HP auxiliary engine, an 8.4 cubic yard hopper, 56 degree dump angle, 44″ gutter brooms, up to 600 gallon water capacity and 25% more spray nozzles.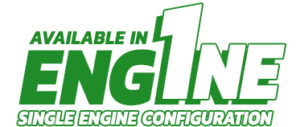 Its Whisper Wheel 10-blade closed radial fan technology out performs all others while operating at up to 70% lower noise levels than the rest of the class. The A8 sweeps in forward or reverse without optional axle chains and provides 40% more screen area than its nearest competitor.
Patent Pending Single Engine (SE) Configuration
The Schwarze A8 Twister SE has no performance compromise from its twin engine version and can perform most typical sweeping at a low single engine speeds allowing for low noise and operational costs. When full power is needed for heavy jobs like construction and spring cleanup the A8 Twister SE comes through with the same amount of sweep power available on the twin engine A8 Twister. Designed to operate exactly like the twin engine model, little if any additional operator and technician training is required.
The Schwarze A8 Twister's hopper is constructed of stainless steel. Popular options include up to 600 gallons of water, increased gutter broom usability via Gutter Broom Extension Override (GEO) and an 8′ auxiliary hand hose for cleaning tight areas.
Like all Schwarze sweepers, the A8 Twister is built in an ASQ/ANSI/ISO 9001:2105 Standard quality system certified facility.
Technical Specifications
| | |
| --- | --- |
| Manufacturer | |
| Sweeping Path | Pickup Head Only: 90", Pickup Head & 1 Side Broom: 117", Pickup Head & 2 Side Brooms: 144" |
| Hopper Capacity | 6 cu yds |
| High-Dump Clearance | |
| Water Tank Capacity | |
| Engine | Twin Engine: John Deere 4045T In-Line 4 Cylinder, Single Engine: Cummins ISB 6.7 In-Line 6 Cylinder |
| Power Source | |
| Chassis | Twin Engine: Various Options, Single Engine: Freightliner M2 106 |
More Regenerative Air Street Sweepers