XtremeVac DCL800SM Series Leaf Loaders
XtremeVac DCL800SM Series Leaf Loaders
The XtremeVac DCL800SM Series is an automated, one-man operated self-contained, chassis mounted leaf collection system with a hydraulically dumping hopper of 14 to 30 cubic yard capacity. It is powered by your choice of an 87 HP Kubota Tier 2, 4-cylinder gas engine or a 74 HP John Deere Tier 4, 4-cylinder diesel engine. The heavy-duty radiator is protected by a bottom hinged corrugated & perforated steel screen to maximize air flow. Engine torque is transferred through a quick acting, over center 13″ clutch with 2.25″ diameter PTO shaft. A fluid drive coupler is an available option.
Standard equipment includes a 3-axis in-cab joystick controlled boom for one-man operation, a single top hinged rear door, hydraulic door latches, light bar on hopper nose cone, boxed perforated radiator screen, backup camera and LED rear flashing lights. A 52 degree tipping angle provides easy dumping. The Xtreme Vac DCL800SM is built on an 8″ x 3″ structural steel tubing frame which mounts to an approved 33,000 lb. GVW chassis.
The 28″ diameter impeller has six 3/8″ thick T-1 steel blades. The impeller housing has replaceable abrasion resistant steel wear liners. Optional urethane coated liners are available.
Technical Specifications
| | |
| --- | --- |
| Manufacturer | |
| Power Source | |
| Engine | Kubota 4-Cylinder 87HP T2 Gas, John Deere 74 HP FT4 Diesel |
| Hopper Capacity | 14 cu yds, 20 cu yds, 25 cu yds, 30 cu yds |
| Suction Hose | 16" diameter x 144". Wire reinforced .060" thick flexible urethane. Nozzle constructed of 12 ga steel. |
More Chassis Mount Leaf Loaders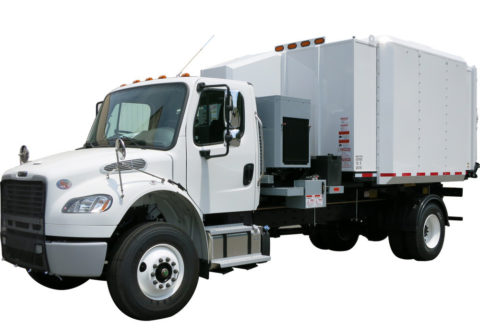 View Details
87 HP 4-cylinder Kubota T2 gas
74 HP 4-cylinder John Deere T4 diesel
14 to 30 cu yd capacity
One-man in-cab operation 3-axis boom control
View Product

XtremeVac DCL800SM Series Leaf Loaders