XtremeVac SKB700CB Leaf Loader
XtremeVac SKB700CB Leaf Loader
The Xtreme Vac SKB700CB is a self-contained, chassis mounted leaf collection system with a 19 cubic yard compaction body with automatic push-out unloading. The body is constructed of 1/4″ thick steel with 3″ steel channel supports. Compaction allows you to load up to four times the volume of leaves held by standard units, increasing productivity by greatly reducing the number of trips to your dump site.
The SKB700CB is powered by your choice of an 87 HP Kubota Tier 2, 4-cylinder gas engine or a 74 HP John Deere Tier 4, 4-cylinder diesel engine. The heavy-duty radiator is protected by a bottom hinged corrugated & perforated steel screen to maximize air flow. Engine torque is transferred through a quick acting, over center 13″ clutch with 2.25″ diameter PTO shaft. A fluid drive coupler is an available option.
A 28″ diameter impeller with six 3/8″ thick T-1 steel blades. The impeller housing has replaceable abrasion resistant steel wear liners. Optional urethane coated liners are available. The Xtreme Vac SKB700CB has a 16″ diameter x 10′ long intake hose with a 3-axis in-cab joystick control making it a true one-man automatic collection system.
More Chassis Mount Leaf Loaders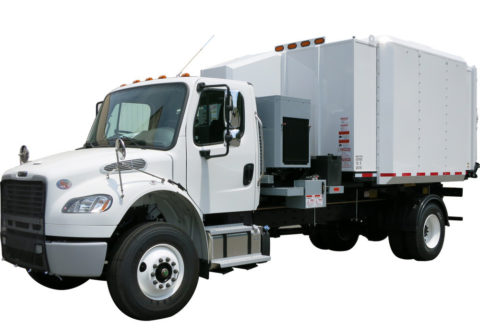 View Details
87 HP 4-cylinder Kubota T2 gas
74 HP 4-cylinder John Deere T4 diesel
14 to 30 cu yd capacity
One-man in-cab operation 3-axis boom control
View Product

XtremeVac DCL800SM Series Leaf Loaders